Windows si aggiorna ad Android 12.1
Ovviamente si parla del Windows Subsystem for Android, attualmente disponibile per Insider.
Windows Subsystem for Android è quella sorta di emulatore che permette l'esecuzione delle app Android su Windows 11, e del quale abbiamo parlato nel dettaglio nella nostra prova sul campo. Nelle ultime ore è arrivato un nuovo aggiornamento.
L'aggiornamento appena rilasciato per il Windows Subsystem for Android corrisponde essenzialmente ad un major update, perché viene aggiornata la versione base ad Android 12.1. Andiamo a vedere insieme le novità principali:
Interfaccia utente aggiornata ad Android 12.1.
Ottimizzati i dati e l'interfaccia per la diagnostica.
Migliorata la connessione delle app Android installate a internet attraverso la stessa rete del PC.
Interfaccia delle impostazioni generali aggiornata.
Miglioramenti per l'integrazione con Windows, così da rendere più agevole l'uso delle periferiche del PC da parte delle app e non solo.
Miglioramenti alla fotocamera e all'interfaccia grafica.
Miglioramenti al supporto e all'interfaccia con le periferiche quali mouse e tastiere.
Vi ricordiamo che attualmente il Windows Subsystem for Android è disponibile esclusivamente per coloro che hanno aderito al programma Windows Insider, trovate maggiori dettagli a questo indirizzo.
Qui sotto invece trovate la nostra prova delle app Android su Windows 11, ancora più in basso trovate il changelog completo e i problemi noti.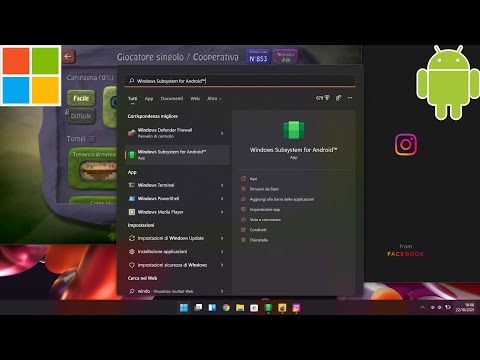 Windows Subsystem for Android updated to Android 12.1
Advanced networking on by default for newer x64 Windows builds
Updated Windows Subsystem for Android Settings app: redesigned UX and diagnostics data viewer added
Simpleperf CPU profiler recording now works with Windows Subsystem for Android
Windows taskbar now shows which Android apps are using microphone and location
Improvements to Android app notifications appearing as Windows notifications
Reduced flicker when apps are restored from minimized state
Apps are not restarted when devices come out of connected standby on recent Windows builds
New video hardware decoding (VP8 and VP9)
Fixes for on-screen keyboard in apps
Fixes for full screen Android apps and auto-hidden Windows taskbar
Windows Subsystem for Android updated with Chromium WebView 100
Added support for Android NetworkLocationProvider in addition to GpsLocationProvider
Improved general stability, performance, and reliability.
Instability with camera on ARM devices
Instability printing via Android apps
Some apps rendered at lower resolutions may lay out incorrectly
Some VPNs may not work with Advanced Networking. If you use a VPN and find Android apps do not have network connectivity, please disable Advanced Networking in the Windows Subsystem for Android Settings app
Some apps that were previously available might be missing from the experience, fail to launch, or function incorrectly for various known issues. We're working with our partners to address these issues as soon as possible.