Questo spazzolino ha un'intelligenza artificiale: la nostra anteprima dal MWC 2017 (foto e video)
Se tutto è meglio con il Bluetooth, figuratevi con le intelligenze artificiali.
L'intelligenza artificiale può migliorare la nostra igiene orale? Se la mattina davanti allo specchio mentre vi state spazzolando i denti vi siete fatti questa domanda, è il vostro giorno fortunato. Kolibree ha infatti realizzato Ara, un spazzolino con IA integrata.
A differenza di altri spazzolini smart, presenti sul mercato ormai da tempo, questo ha tutto quello che serve all'interpretazione dei dati al suo interno. Giorno dopo giorno registra i movimenti che si fanno durante la pulizia e capisce quale aree della bocca vengono trascurate.
Una volta che si sincronizza con lo smartphone, tramite relativa app, una semplice e chiara UI vi aiuta a capire dove insistere di più. Oltre alle funzioni per adulti che vogliono rendere smart la pulizia dei denti, è presente anche una curiosa modalità per bambini.
Infatti l'app di Ara trasforma l'igiene orale in un vero e proprio gioco; meglio ci si lava i denti più punti si fanno. Degna di nota anche la collaborazione che l'azienda ha stretto con l'italiana RBM Assicurazione Sanitaria.
L'assicurazione distribuirà degli Ara ai propri clienti, anche per effettuare uno studio con cui valutare l'impatto di questa tecnologia sull'effettivo stato di salute degli utilizzatori. Insomma un gadget che unisce l'utile allo smart, che potete già pre-ordinare sul sito dell'azienda.
Il prezzo è di 79€ in pre-ordine fino al 15 marzo, poi entrerà a regime quello pieno ovvero 129€. Se volete vedere in azione il Kolibree Ara, date anche un'occhiata alla nostra video anteprima qui sotto, con anche la prova dell'app.
Video anteprima Kolibree Ara, lo spazzolino con intelligenza artificiale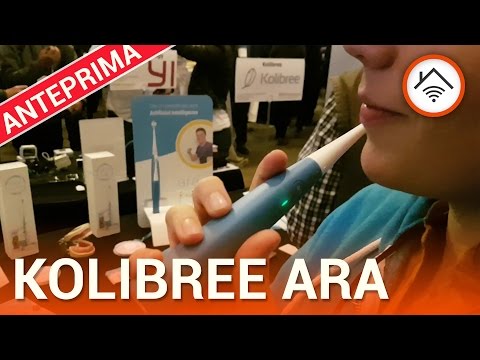 Can Artificial Intelligence Improve Your Oral Health?
Ara by Kolibree anticipates March 2017 market availability
February 26, 2017 (BARCELONA, SPAIN and NEW YORK, USA) – Artificial intelligence (AI) has found its way to dental hygiene through Ara by Kolibree.
Taking giant steps to surpass the typical functions of a smart connected toothbrush, Ara has AI embedded directly in the brush handle, which means you can use the brush in "offline" mode and still capture valuable data about how well you are brushing. Improving your brushing helps to remove more bacteria, reduce plaque and prevent gingivitis.
Oral health improvement through Kolibree's AI starts when you download the free Kolibree app (iOS or Android) and follow the prompts. You will be asked to brush your teeth as if nobody is watching. This brushing is recorded and serves to measure your personal progress. Simply view your personal Check-up diagram to see your progress, or use the step-by-step coaching guidelines, whenever you want. Just open the app every week or two and the personalized data in the brush automatically syncs to your app. Each time you brush, machine learning algorithms embedded in the toothbrush learn your brushing pattern, and recommendations for improvement are adapted just for you.
"Ara shows how well you are brushing commonly missed areas such as the posterior areas of the molars," said dental hygienist Elizabeth Farrell, RDH, from Kolibree's dentist relationship team.
"The AI capabilities of Ara to gather and provide personalized data even when the user brushes 'offline' is what sets Ara apart from any other toothbrush on the market," explained Kolibree founder and CEO Thomas Serval. "Ara is your tooth brushing companion that tells you how well you brush and how to improve," Serval added.
More than 12,000 Ara toothbrushes have been pre-ordered by health-conscious individuals, dental practices and even a health insurance company anxious to measure the extent to which artificial intelligence can improve healthy behaviors when it comes to dental hygiene. Ara's price at spring 2017 launch will be USD $129. Pre-order for $89 through March 15, 2017 at Kolibree.com with Promo Code MWC2017.