Insta360 EVO: cam 5.7K 3D o a 360°? Si piega e fa entrambe! (foto)
Insta360 svela un nuovo prodotto o un nuovo 2-in-1. La Insta360 EVO è infatti una cam costituita da due moduli che la rendono sia una 360 gradi, sia una 3D stereoscopica a 180°. Il segreto della EVO è la sua natura a "conchiglia", legata alla cerniera che unisce le due parti.
Quando la cam è chiusa gira video a 360° in 5,7K e scatta foto sferiche a 18 megapixel; quando è distesa riprende in 3D su un campo di 180° e fa fotografie 3D con lo stesso campo, sempre con risoluzioni rispettive di 5.7K e 18 megapixel.
Il tutto con le feature apprezzate nelle altre Insta360, come la stabilizzazione FlowState, su questo dispositivo ottimizzata anche per i video 3D, o il timelapse "4D" TimeShift, che permette di cambiare prospettiva in ogni momento del video.
Le immagini, statiche o meno, catturate con la Insta360 EVO possono poi essere visualizzate al volo, grazie alla nuova versione dell'app ufficiale per Oculus Go e Samsung Gear VR, oppure su smartphone, o con l'app o con un inedito gadget esclusivo.
Si tratta della HoloFrame, una custodia per iPhone X, XS, XS Max e Samsung Galaxy S8, S8+, S9, S9+, Note 8 (sono in piano varianti per altri modelli di smartphone) che permette di visionare contenuti 3D sul proprio smartphone, sfruttando il tracciamento dell'occhio.
La Insta360 EVO sulla carta sembra davvero interessante, poiché mette in tasca feature che per avere richiederebbero di dotarsi di tanta attrezzatura costosa e difficile da gestire. Questa cam costa invece 469,99€, cifra paragonabile al costo di molte action cam di fascia alta. La trovate già disponibile sul sito ufficiale, insieme alla custodia HoloFrame che costa 29,99€.
Caratteristiche, immagini e video
| | | |
| --- | --- | --- |
| Device specifications | Aperture: | F2.2 |
| | Photo resolution: | |
| | Video resolution: | 5760*2880@30fps,3840*1920@50fps,3840*1920@30fps,3008*1504@100fps |
| | Photo format: | insp, jpeg(can be exported via App), dng(RAW) |
| | Video format: | insv, mp4(can be exported via App), LOG |
| | Video coding: | H264 |
| | Video Bitrate: | Up to 100Mbps |
| | Stabilization: | Built-in 6-axis gyroscopic stabilization |
| | Compatible devices: | iPhone XS, iPhone XS Max, iPhone XR, iPhone X, iPhone 8/8 plus, iPhone 7/7 plus, iPhone 6s/6s Plus, iPhone SE, iPad Pro, iPad (2018) |
| Photo & video specifications | Photo modes: | Standard photos, timed photos, interval photos, RAW photos, HDR photos |
| | Video modes: | Standard video, Time-lapse mode, Log video, HDR video |
| | EV: | -4EV~+4EV |
| | Exposure modes: | Auto, Manual(Shutter 1/4000s-55s, ISO 100-3200), Shutter Priority(1/4000s-1/4s, photos only), ISO Priority(100-3200, photos only) |
| | WB: | Auto, Cloudy, Sunny, Fluorescent, Incandescent |
| Design | Color: | Black |
| | Weight: | 113g |
| | Dimensions: | Unfolded: 98.4mm*49mm*26.27mm;Folded: 50.3mm*49mm*52.54mm |
| Storage & Connectivity | Bluetooth: | BLE4.0 |
| | Wi-Fi: | 5G(Standard range of approximately 20 meters) |
| | MicroSD Card: | Recommends UHS-I V30 speed class, exFAT(FAT64) format; max storage capacity is 128 GB |
| Battery | Battery Capacity: | |
| | Charging Method: | Micro USB |
| | Charging Time: | 90 mins |
| | Run Time: | 65 mins |
| | Use Environment: | Running temperature:-10℃~40℃; Storage temperature: -20℃~40℃ |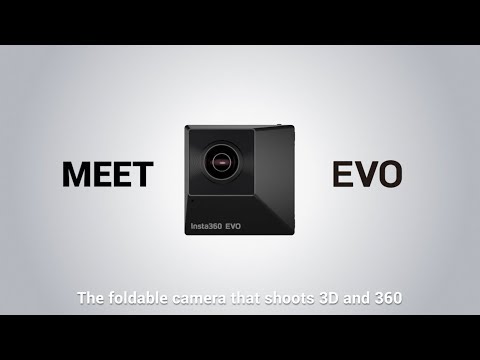 Meet EVO: Insta360's Foldable Camera Shoots 180 3D and 360
New HoloFrame Lets You Watch 3D Video Straight from Your Phone
Insta360 today launched EVO, a revolutionary way to capture life's best moments. A quick-folding body allows EVO to transform between two shooting modes, one for shooting lifelike 180-degree 3D content and another for immersive 360 that captures every angle at once.
Insta360 also announced two new technologies that make reliving memories in 3D easier than ever.
Insta360 VR, a new app for Oculus Go and Samsung Gear VR, allows you to connect EVO to a headset for streamlined wireless playback and transfer. HoloFrame is a specially designed phone display cover that lets you watch 3D photos and video with the naked eye. It's simple, mind-blowing and feels like magic.
Compatible with both iOS and Android, EVO is available to order today via Insta360.com, B&H Photo Video and select retailers worldwide.
Relive what you love.
We remember experiences in three dimensions, and to fully capture a moment, a camera needs to do the same. Whether it's a child's first steps, a once-in-a-lifetime vacation or a get-together with friends — there's no more transporting way to relive an experience than feeling its full depth.
EVO makes it easy to immortalize the moments that matter. Unfold its dual lenses, tap the shutter button and EVO captures reality just as we see it. 5.7K 180 3D video and 18 MP 180 3D photos mean that both details and depth stand up to reality.
Life all in.
Some experiences are so rich and unpredictable — or they demand so much of our attention — that it's impossible to choose just one direction to point a camera.
That's where 360 capture comes in handy. Fold the EVO so its lenses are back to back and it shoots 5.7K 360 video and 18 MP 360 photos, ensuring that users capture every angle and never miss a shot.
360 content can be played back on a headset or reframed with the EVO's intuitive editing app to punch in on the best moments.
Two new ways to play.
Content captured on the EVO can be played back on any VR headset, allowing for 3D immersion. Using the new Insta360 VR app, users can also connect an Oculus Go or Samsung Gear VR directly to EVO for instant playback and file transfer.
There are times, though, when a headset isn't handy or when it's easier to share a moment with friends and family by simply opening it up on a phone like we usually do. That's the idea behind the innovative HoloFrame, allowing naked-eye playback of 3D content straight from a smartphone — no glasses needed.
The HoloFrame pops straight over a smartphone display (think a reverse phone case). Then, users open their favorite 3D photo or video in the EVO app. During playback, the app uses eye-tracking to align with a viewer's gaze and display an image that takes on a lifelike three dimensions in their line of sight. It's a groundbreaking way to experience 3D content that has to be seen to be believed.
Sold separately, HoloFrame is available today for iPhone models X, XS, XS Max and XR, with additional versions for Samsung Galaxy S8, S8+, S9, S9+ and Note 8 models coming soon.
180 3D to go.
Good stabilization is essential for both 360 and 180 3D content, especially when it's viewed in a headset. That's why EVO uses two purpose-built stabilization technologies. 360 mode packs FlowState Stabilization, the industry-leading tech that captures footage so stable it looks gimbal-mounted.
For 180 3D mode, EVO introduces a groundbreaking new 3D stabilization tech. Filming 180 3D used to mean you were stuck in place, with footage that became unwatchable as soon as you moved. Now, creators can move freely to get the shot, while ensuring footage stays smooth, stable and headset-ready.
Control time and perspective.
Insta360's signature TimeShift mode puts a 360 twist on time-lapse and hyper-lapse photography, allowing EVO users to control both the flow of time and the perspective of the camera at any given moment.
TimeShift is a killer feature for travel experiences, family events and more.
Light that's true to life.
EVO uses a state-of-the-art
Shoot and edit in a snap.
The EVO's companion app makes capturing and editing great moments easy. WiFi connectivity lets users see what they're capturing on EVO in real time, and then quickly transfer footage to their phone.
Next, they can review, trim and tweak 180 and 360 content with a few taps, or reframe 360 footage to create a perfect edit.
The app also supports publishing 360 and 180 3D content to supporting platforms, such as YouTube and Facebook.
Available now.
EVO is priced at $419.99 USD and available to order now via Insta360.com, B&H Photo Video and select retailers worldwide.
Insta360 EVO purchase link:
http://bit.ly/Insta360EVO_pr