I nuovi ZenBook Duo sono i portatili più fighi che vedrete quest'anno (foto e video)
In un modo alla costante ricerca di schermi più grandi, la soluzione di ASUS è "semplice": aggiungerne uno, lo ScreenPad Plus!
Cosa siete disposti a fare per avere più spazio a schermo sui vostri portatili? La risposta di ASUS era (forse) intuibile da chi conosca i laptop dell'azienda (vedi lo Zephyrus S che abbiamo recensito qualche mese fa): spostare la tastiera in basso, fino a toccare il bordo inferiore del portatile, ed usare lo spazio sopra per inserire un secondo schermo. Semplice, vero? Ecco a voi gli ZenBook Duo.
Questa nuova serie, che per il momento consta di due soli prodotti, rivoluziona il concetto di lavoro in mobilità, permettendo un multitasking senza pari e dalle potenzialità ancora inesplorate. Il modello da 15,6'' in particolare, che è il vero top di gamma, vanta processori fino al Core i9 di 9a generazione (ma c'è anche la variante i7), scheda RTX 2060, e schermo OLED 4K HDR. Già queste sono caratteristiche da capogiro, ma non finisce qui, perché abbiamo anche il supporto Wi-Fi 6, Bluetooth 5.0, fino ad 32 GB di RAM ed 1TB PCIe x4 SSD, ma sopratutto un secondo schermo, sempre 4K (3.840 x 1.100 pixel, 14'') ma non OLED, con rivestimento opaco per combattere i riflessi (dallo schermo principale ma non solo), touch e con supporto a bene o male qualsiasi tipo di stylus, tramite Windows Ink.
Abbiamo ovviamente provato subito questa peculiarità, chiamata ScreenPad Plus, che fa tesoro dell'esperienza accumulata appunto con lo ScreenPad (se non sapeste cos'è, guardate qui), portandola su un form factor diverso. Questo secondo display viene infatti visto da Windows come se fosse un secondo schermo esterno. Potrete quindi disabilitarlo o anche usarlo in alternativa allo schermo principale, spegnendo quest'ultimo. Potete trascinare le vostre applicazioni dal display grande a quello piccolo, o inviarle da uno all'altro tramite una pratica scorciatoia che comparirà sotto forma di overlay ogni volta che trascinerete una finestra. Sfruttando il ridimensionamento automatico, è possibile collocare fino a 3 applicazioni sullo ScreenPad Plus, una di fianco all'altra, in modo da sfruttare al meglio tutto lo spazio a disposizione.
Ma la cosa più utile è che potrete creare fino a 4 preset. Volete il browser a tutto schermo, mentre il file manager e Telegram sono in esecuzione sullo ScreenPad Plus? Basta selezionare i programmi che volete, e con la semplice pressione di una shortcut si apriranno esattamente dove e come li volete, massimizzando la vostra produttività.
E se ad un certo punto aveste bisogno di più spazio possibile, potete visualizzare un'applicazione "a tutto schermo", come se i due display fossero uno unico. Vedere immagini e testo scorrere da uno schermo all'altro è quasi ipnotico, ma al di là dell'effetto scenico ha anche una sua utilità, soprattutto in certi contesti.
Ma non è ancora finita, perché alcuni applicativi in particolare traggono vantaggio dallo ScreenPad Plus per dei controlli aggiuntivi, un po' come già avveniva sul piccolo ScreenPad, ma più in grande. La suite di Adobe può collocare certe funzioni nello schermo inferiore, lasciando tutto lo spazio del 15,6'' per visualizzare immagini o video: pensate di avere la timeline di Premiere in basso, ed il video in alto, oppure i filtri di Photoshop sotto e l'immagine sopra, e così via. Altri software, come la suite Office di Microsoft o le app di grafica di Corel sono in grado di sfruttare questa possibilità, ed in futuro arriverà anche la possibilità di personalizzare ulteriormente quest'area, ad esempio con link alle più comuni operazioni sui file (taglia, incolla, salva ecc.) o con utili scorciatoie quali undo/redo, e tanto altro. ASUS ha già dimostrato di non aver affatto abbandonato lo ScreenPad, ed a maggior ragione abbiamo fiducia che "coccolerà" lo ScreenPad Plus con il passare del tempo.
Non abbiamo ancora detto nulla dello ZenBook Duo più piccolo, che è un 14'' full HD non touch (lo schermo principale) con ScreenPad Plus da 12,6'' 1080p touch, processori Core i7 e grafica MX250. Siamo insomma di fronte ad un modello decisamente meno potente, destinato ad un mercato più mainstream, ma comunque sempre con l'innovativo ScreenPad Plus, che comunque potrebbe andare bene per la maggior parte degli utenti, soprattutto per chi fosse alla ricerca di maggiore portabilità, essendo più piccolo e leggero (1,5 Kg contro il 2,5 del 15,6'').
Ultima nota riguardo la tastiera, che tocca il bordo del portatile in entrambi i casi. Per questo motivo il touchpad è stato spostato al suo fianco, e funziona anche da tastierino numerico virtuale, grazie alla semplice pressione di un tasto che fa comparire i numeri in sovraimpressione. Notate solo che il modello da 14'', essendo più sottile, ha un touchpad rigido e non cliccabile, quindi è stato necessario aggiungere i relativi pulsanti per clic destro e sinistro; il modello da 15,6'' invece ha il classico touchpad senza tasti, cliccabile, perché meno sottile. A questo proposito, sempre sul 15'', nella confezione troverete incluso anche un apposito poggiapolsi per aiutarvi ad appoggiare meglio i palmi delle mani se doveste scrivere a lungo. Sul 14'' questa necessità non è così pressante, in quanto l'altezza del portatile è inferiore, e l'esperienza è praticamente affine a quella di una tastiera esterna.
Insomma lo ScreenPad Plus promette davvero di essere "the next big thing" nel mondo portatile, sicuramente in casa ASUS, ed il supporto sembra già molto buono, perché in parte derivato da quello dello ScreenPad. I dubbi sono ovviamente sul prezzo, che essendo la prima generazione sarà senz'altro di fascia alta, e sull'autonomia, visto che si tratta comunque di alimentare uno schermo in più. Le batterie in dotazione ai due modelli sono nell'ordine dei 70Wh per ciascuno, quindi non certo da primato, e dal 15'' in particolare sarà difficile strappare diverse ore di autonomia.
Ma di questo riparleremo a tempo debito, perché al momento sono tutte congetture. Il rilascio dovrebbe avvenire in autunno, anche se ancora non c'è una data precisa, ma non dubitate che terremo senz'altro d'occhio i nuovi ZenBook Duo. Per adesso vi lasciamo alla nostra video anteprima, alle immagini relative ed al comunicato stampa in inglese, contenente la scheda tecnica completa dei due notebook. Tenete solo conto che qualche specifica potrebbe variare con l'arrivo sul nostro mercato.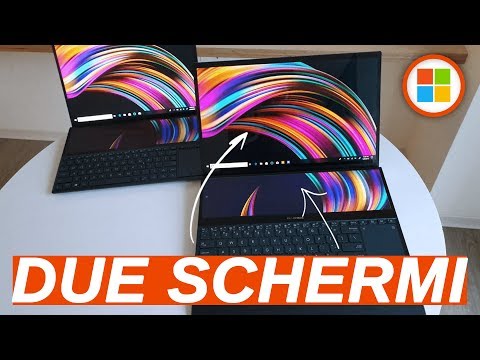 ASUS Announces ZenBook Pro Duo (UX581) with Revolutionary ScreenPad Plus
Groundbreaking 15.6" laptop with 4K UHD OLED display and 14" full-width 4K ScreenPad Plus secondary touchscreen for endless creative possibilities
World's first ScreenPad Plus laptop:

14" full-width 4K ScreenPad Plus touchscreen interacts seamlessly with main display for enhanced creativity  

Ultrapowerful performance:

Built for effortless creativity with up to 9th Gen Intel Core i9 CPU, gaming-grade GeForce RTX 2060 GPU and Wi-Fi 6

Brilliant visuals:

Frameless four-sided 4K OLED HDR NanoEdge main display with 100,000:1 contrast ratio and DCI-P3 100%, delivering breathtaking quality

ZenBook Duo (UX481):

Smaller

14" ultraportable version is also available with 12.6" FHD ScreenPad Plus, Intel Core i7 CPU and GeForce MX250 GPU
TAIPEI, Taiwan, May 27, 2019 — ASUS today announced ZenBook Pro Duo (UX581), a groundbreaking laptop featuring the new ASUS ScreenPad™ Plus, a revolutionary 14-inch full-width secondary touchscreen that expands and enhances the interactive capabilities offered by the original ASUS ScreenPad.
ScreenPad Plus offers endless creative possibilities for content creators, allowing productivity-enhancing workflows and easy multitasking. It integrates seamlessly with the primary display, and the built-in ScreenXpert software includes a wide selection of useful apps, tools and utilities that allow users to easily enjoy the efficiency benefits of ScreenPad Plus.
Extreme performance for effortless creativity is provided by up to 9th Generation Intel® Core™ processors, combined with up to 32GB RAM and an NVIDIA® GeForce RTX™ 2060 GPU, with ultrafast storage provided by up to a 1TB PCIe® 3.0 x4 SSD.
ZenBook Pro Duo features a stunning 4K UHD (3840 x 2160) OLED touchscreen for breathtaking visuals, a 4K (3840 x 1100) ScreenPad Plus and an ASUS NumberPad dual-function touchpad. The display is a frameless four-sided ASUS NanoEdge design, with ultraslim bezels for immersive visuals and an ultracompact form factor.
The brand new Celestial Blue color gives ZenBook Pro Duo a sophisticated air of timeless innovation. It's also decorated with a unique asymmetric version of the iconic Zen-inspired spun-metal finish: an intriguing design detail that gives ZenBook Pro Duo a totally unmistakable identity.
A 14-inch ultraportable variant, ZenBook Duo (UX481), is also available, featuring a frameless four-sided NanoEdge FHD display and an FHD ScreenPad Plus. It's powered by up to an Intel Core i7 processor and a GeForce MX250 GPU.
Create the uncreated: ultimate productivity
The unique 4K ScreenPad Plus on ZenBook Pro Duo gives users the ability to enjoy the productivity and efficiency benefits of using two separate LCD displays on a single portable device. The full-width, high-resolution 32:9 aspect-ratio touchscreen sits directly above the laptop's keyboard, providing a greatly enlarged visual workspace while preserving the standard laptop form factor.
ScreenPad Plus can be used just like any standard second display in Windows to display visual content, or users can take advantage of many time-saving features and functions built into the ScreenXpert control software to simplify multiscreen window and app management. These include handy quick controls such as App Switcher, ViewMax and App Navigator that enable intuitive interactions and easy cross-screen referencing between the main display and ScreenPad Plus. Task Group lets users lock instantly into work mode by opening multiple tasks with a single touch.
Users can also drag discrete apps, toolbars or menus onto ScreenPad Plus to reduce clutter on the main screen and enhance work efficiency. Creators can dock their tools such as video previews, timeline controls, code windows or audio mixer panels onto ScreenPad Plus to optimize their workflow. Social communications apps placed on ScreenPad Plus allow users to keep up to date and respond instantly to messages while working, without having to switch between windows.
Adaptive functions, pioneered in the original ScreenPad, also offer enhanced workflow. ASUS is working with developers including Corel® to optimize adaptive ScreenPad tools for the ultimate productivity. However, any Windows app can be used with ScreenPad Plus, with no need for a specific ScreenPad Plus-enabled version.
Using the bundled stylus — or any other active stylus — enables yet another layer of interactivity for users, with ScreenPad Plus offering a superbly stable platform for writing or drawing. A bundled deluxe palm rest enhances the ErgoLift tilting keyboard design even further for the most comfortable drawing or typing experience ever.
ZenBook Pro Duo features the latest version of the ASUS NumberPad, an LED-illuminated numeric keypad integrated into the touchpad. There's also Amazon Alexa voice support, with a dedicated light bar at the front of the laptop that illuminates to indicate it's listening.
Ultrapowerful performance
ZenBook Pro Duo is designed for extreme performance to enable effortless creativity. It's powered by up to a 9th Generation Intel Core i9 eight-core processor with up to an unprecedented 5GHz Turbo Boost frequency and 32GB of DDR4 RAM. The gaming-grade NVIDIA GeForce RTX 2060 GPU, powered by the NVIDIA Turing™ architecture, is a game-changing GPU that offers users the power of ray-tracing for the ultimate visual realism.
An up to 1TB PCIe 3.0 x4 SSD ensures ultrafast data access at all times, and the full set of I/O ports includes a Thunderbolt™ 3-enabled USB Type-C™ (USB-C™) port. The latest Intel Wi-Fi 6 with Gig+ (802.11ax) takes wireless speeds to the next level, for supersmooth connections to the world.
To ensure silky-smooth operation and maximum performance are available at all times, there's a dedicated Turbo Fan button to boost cooling at any time, and the ErgoLift hinge improves airflow under the laptop for better thermal performance.
This potent specification makes ZenBook Pro Duo one of the most powerful laptops available for discerning on-the-go creative professionals, and ensures an ultra-fluid cross-screen workflow when using ScreenPad Plus.
Brilliant visuals
The 4K UHD NanoEdge OLED touchscreen on ZenBook Pro Duo is truly amazing, with a four-sided frameless design featuring an 89% screen-to-body ratio that gives users more screen, and fewer distractions. This brilliant display technology delivers ultra-vivid colors and deep blacks.
To display the most vivid, most realistic colors possible, ZenBook Pro Duo supports an exceptionally wide color gamut with 100% DCI-P3 coverage and HDR. The DCI-P3 color space — widely used in the motion picture industry — is increasingly the preferred choice of creative professionals for its increased range of possible colors, and makes images on ZenBook Pro Duo look simply stunning.
Meet the family
For users requiring a smaller and more affordable ScreenPad Plus laptop, the ultraportable 14-inch ZenBook Duo (UX481) is the perfect choice. It supports the same great ScreenPad Plus features as its larger sibling, but in a lighter and smaller chassis. Powered by up to an Intel Core i7 processor and GeForce MX250 graphics, it has an FHD NanoEdge display and an FHD ScreenPad Plus.
AVAILABILITY & PRICING
ASUS ZenBook Pro Duo (UX581) and ZenBook Duo (UX481) will be available from DATE in COUNTRIES from PLACES. Please contact your local ASUS representative for further information.
SPECIFICATIONS
ASUS ZenBook Pro Duo (UX581)
ASUS ZenBook Duo (UX481)
Processor

Intel

®

Core

™

i9-9980HK

Intel

®

Core

™

i7-9750H

Latest Intel

®

Core

™

i7

Display

Main Display: 15.6" OLED 4K (3840 x 2160) 16:9 touchscreen

ScreenPad Plus: 14" 4K UHD touchscreen

Main Display: 14" FHD (1920x 1080) 16:9 screen

ScreenPad Plus: 12.6" FHD touchscreen

Operating System

Microsoft Windows 10 Home

Microsoft Windows 10 Pro

Microsoft Windows 10 Home

Microsoft Windows 10 Pro

Graphics

NVIDIA

®

GeForce RTX

™

2060 - 6GB GDDR6 VRAM

NVIDIA

®

GeForce

®

MX250 - 2GB GDDR5 VRAM

Memory

DDR4 2666MHz, up to 32GB

LPDDR3 2133MHz, up to 16GB

Storage

1TB PCIe

®

x4 SSD

512GB / 256GB PCIe

®

x2 SSD

1TB PCIe

®

x4 SSD

512GB / 256GB PCIe

®

x2 SSD

Connectivity

Intel

®

Wi-Fi 6 with Gig+ (802.11ax)

Bluetooth

®

5.0

Up to Intel

®

Wi-Fi 6 with Gig+ (802.11ax)

Bluetooth

®

5.0

Cameras

IR webcam with Windows Hello support

IR webcam with Windows Hello support

Interfaces

1 x Thunderbolt

™

3 USB-C

™

2 x USB 3.1 Gen 2 Type-A

1 x Standard HDMI

1 x Audio combo jack

1 x DC-in

1 x USB 3.1 Gen2 Type-C

™

1 x USB 3.1 Gen 2 Type-A

1 x USB 3.1 Gen 1 Type-A

1 x Standard HDMI

1 x Audio combo jack

1 x MicroSD card slot

1 x DC-in

Audio

Array microphone with Cortana and Alexa voice-recognition support

Harman Kardon-certified audio system

Array microphone with Cortana and Alexa voice-recognition support

Harman Kardon-certified audio system

Battery

71Wh 4-cell lithium-polymer battery

70Wh 4-cell lithium-polymer battery

AC Adapter

Output: 19.5V, 230W   Input: 100V-240V AC, 50Hz/60Hz

Output: 19V, 65W   Input: 100V-240V AC, 50Hz/60Hz

Dimensions

359 x 246 x 24 mm

323 x 223 x 19.9 mm

Weight

2.5kg

1.5kg