I primi 3 Dead Rising tornano a 1080p e 60 fps su PS4, XONE e Steam (foto e video)
Dead Rising 10th Anniversary - Per celebrare il decimo anniversario di Dead Rising, Capcom annuncia il ritorno di Dead Rising, Dead Rising 2 e Dead Rising 2: Off the Record sulle Console e sui PC di ultima generazione.
A partire da questo 13 settembre, in formato digitale, sarà possibile acquistare i tre titoli appena citati separatamente, al costo di 19,99€ l'uno, o in un bundle unico denominato Dead Rising Triple Pack al prezzo di 49,99€.
Il primo Dead Rising sbarca quindi per la prima volta su PC Windows, tramite Steam, e su PlayStation, ovviamente la più recente. Tutti e tre vanteranno grafica a 1080p (full HD quindi) e 60 fps. Saranno anche inclusi tutti i DLC rilasciati nel corso degli anni da Capcom.
Dead Rising
Re-live the zombie outbreak that started it all and step into the shoes of freelance photojournalist Frank West. On the hunt for the scoop of a lifetime, a tip leads Frank to the small suburban town of Willamette that's been overrun by zombies. It's a true struggle to survive the endless stream of enemies, but with full reign of an entire shopping mall, Frank can use any items he can find to fight off the flesh hungry mob and search for the truth behind the nightmarish epidemic. Don't forget to capture the insanity on film and show off those photo journalist skills along the way!
Dead Rising 2
The sequel to the original Dead Rising introduces Chuck Greene, a professional motorcycle racer. Surrounded by a huge horde of zombies in the casino town of Fortune City, Chuck finds himself in a race against time to obtain Zombrex, a life-saving drug that will keep his daughter Katey alive. Dead Rising 2 also takes the series one step further with the introduction of combo weapons like the "PaddleSaw", two player co-op and thrilling four player gladiator battles.
Dead Rising 2: Off the Record
Photo journalist and original hero Frank West takes center stage to find his biggest scoop yet, returning in a reimagining of the Fortune City casino town from Dead Rising 2. The added Sandbox Mode allows players to explore the city and participate in deathly challenges, while Frank's photo skills and upgraded camera features capture all of the violent and hilarious action up close.
Dead Rising 10th Anniversary Trailer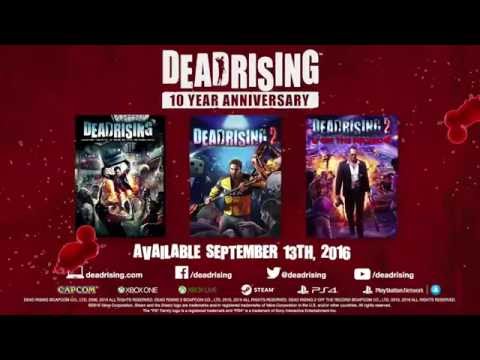 Dead Rising 10th Anniversary Screenshot